I've been a full-time Copywriter, Marketer, SEOist & (Sales) Funnel Builder since 2011.
I'm fully conversant with all current SEO best practices, including keyword selection and on and off-page optimization.
My previous career was in IT and tech; I ran my own IT company in the UK for 10 years.
I worked directly for IBM, Fujitsu, and Xerox in the UK where I headed up sales teams.
I've written for Fortune 100 Companies including Microsoft, Home Depot, and IBM, and organizations such as PwC (professional services), Bain & Co. (one of the world's largest management consulting firms), and UNICEF.
POINTR – TECHNICAL BLOG POSTS
Pointr has offices in London, Boston, Dubai, and Turkey and is a global technology leader in indoor location technology. Pointr Deep Location® is deployed in 18 countries and over 1,000 venues. They provide accurate indoor location & mapping solutions for hospitals, businesses, and organizations with smooth indoor & outdoor transitions. I'm retained by Pointr to produce regular blog content.


PAPERLESS CONSTRUCTION – CASE STUDIES
UK company Paperless Construction supplies cloud-based construction health and safety software to the construction industry to manage training, compliance, and time & attendance. I interviewed senior management at Paperless' customers in order to produce these case studies.
CAPSIFI – ENTIRE WEBSITE (22,000 WORDS)
Capsify has offices in Australia, UK, and the US. They're recognized by Gartner and offer a "complete digital business platform to future-proof companies in an increasingly volatile world". I wrote their entire website and advised on content, voice, and structure. I developed their tagline (Simply Smarter Business) and advised on how to communicate their value proposition in an easier-to-understand way than they had done previously.

AOT – ENTIRE WEBSITE
With offices in Saudi Arabia, Dubai, and Cairo, AOT is an industry leader in enterprise-wide platform implementation, empowering clients through turnkey enterprise Resource Planning, Business Intelligence, Enterprise Content Management, and Business Intelligence solutions. I wrote their entire website.
Les Blythe
2023-01-22T18:46:32+02:00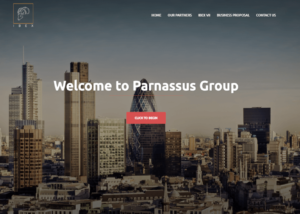 I was retained by Parnasus for several months as their freelance Marketing Manager and oversaw a team based in the US, Ukraine and the UK. The team consisted of writers, website developers, programmers, technical trading consultants, and a UK-based Certified Chartered Accountant.

Can't recommend highly enough.

The quality of work is fantastic and so easy to work with.

Les was was creative, quick-witted, easy to communicate with and paid attention to detail.

He was perfect to work with, I strongly recommend him.

Again, many thanks to Les.

Hard to describe just how pleased I am with his services!

Les is highly competent and certainly knows his stuff.

A pleasure to work with a true professional!

Les was simply awesome in every way. Would definitely ask Les to help [again] if he is available.

Highly recommended.