Best Sales Funnel Software Tools and Builders 2023
Les Blythe: Updated 31 JAN 2023
Sending cold leads directly to a sales page, without an efficient sales funnel in place, burns potential customers quickly and only provides you with a single opportunity to make a conversion and a sale. In this guide, I reviewed and ranked 5 of the best sales funnel software products to help you choose the best one for you. As a bonus, I've included my unique Sales Funnel ROI Calculator so you can crunch the numbers and easily calculate how much extra income you might generate by using a sales funnel!
[I'm reader-supported. When you buy through links on my site, I may earn an affiliate commission].
What is sales funnel software?
The best sales funnel software does much more than just capture leads and add them to an email list. Here's a video overview of what the best sales funnel software can do for you.
Credit YouTube Business Solutions
Sales funnel software return on investment
What difference could a sales funnel make to your business in cold, hard cash terms?
If we assume your product or service sells for $100 and you get 1,000 visitors/month to your sales page, that converts at 2% (which is fairly average), then your monthly income would be $2,000 or $24,000 per annum.
Now, take a look at the ROI calculator below.
With these default values entered, your annual income jumps to $94,812 – quite a difference!
Feel free to play around with the calculator – enter your own numbers to see your potential ROI.
Sales Funnel ROI Calculator
To see your ROI without a sales funnel in place, delete any data in fields 4,5, and 7
```
Other fields explained
For clarity, here's a description of the other fields in the calculator:
Email optin rate (30% average): an indicative rate using a sales funnel with a lead magnet to capture leads to your email list.
F/U up conversion rate (20% average): a typical conversion rate from following up leads on your list captured from optins – note that this is quite conservative as is the email optin rate.
Additional income ($): the additional income you generate by having a funnel in place and marketing multiple times to leads, as opposed to them hitting your sales page once and disappearing for good! This figure calculates for you automatically.
Less funnel S/W cost ($): an average assumed sales funnel software cost per month, again adjust as you see fit.
Monthly income & Annual income: the total amounts you can expect to earn with a funnel in place – to see your figures without a funnel in place take out any figures in the "Email optin rate", "F/U conversion rate", and "Less funnel S/W cost" boxes.
Don't forget your email list
With 1,000 visitors/month, you're building an email list that increases by 300 subscribers each and every month.
Assuming each subscriber is worth at least $1 per month in ongoing sales (industry average), the value of your list would surpass the value of your non-funnel sales in just 7 months when your list reaches 2,100 subscribers!
What is the best sales funnel software?
After using all of the sales funnel builders reviewed on this page, I can say that Kartra never disappoints. It has everything you need to run your business right out of the box and (based on my own personal experience) it will save you hours of wasted time and effort trying to make loads of different software play nicely together – when it was never designed to do so in the first place.
1. Kartra
Best overall sales funnel software
Run your entire online business without fuss
If you're looking for a tool that offers everything you need to run a business online, Kartra has you covered. 
Kartra is an excellent choice for entrepreneurs promoting a product or service since it combines 10+ different software tools in 1. Kartra boasts a variety of features including email marketing, affiliate management, video hosting, funnel builder, and more (full feature list below).
I use Kartra in my own business and would 100% recommend it to anyone looking for the fullest possible functionality from their sales funnel software.
What I like/dislike about Kartra
Like
Page templates – never have to create a marketing or sales page from scratch, simply use one of the provided templates (proven to convert) and be up and running in minutes.
Forms – create beautiful lead capture forms to include on your sales pages, squeeze pages, website pages, or wherever you want to encourage visitors to supply their email addresses and any other information you might need.
Leads – after capturing your leads, manage them efficiently by grouping them into lists. You can tag leads and set up automations (if they do x, do y with them).
Email – send email sequences, one-off broadcasts, and even newsletters.
Products – sell a product of your own or an affiliate product for a commission.
Checkouts – create fully featured checkouts to sell your products and link payments to your favorite provider.
Funnels and campaigns – the fully featured funnel builder makes creating sales funnels (e.g. lead capture page, one-time-offer page, thank you page) a breeze.
Memberships – create a fully-featured membership site and charge for different membership levels.
Videos – host videos and include them on your pages with annoying YouTube restrictions.
Help desks – give professional support to your customers via a fully integrated helpdesk (no additional software required).
Calendar – keep yourself organized, your contacts can book a slot on your calendar.
Surveys and quizzes – engage your audience and collect their input and opinions.
Agencies – once familiar with Kartra, you may want to become an agency and offer its host of features to clients of your own, manage it all in one place.
Affiliates – let others sell your products for a commission, all managed beautifully in Kartra.
Integrations an API – easily integrates and works with other programs.
Dislike
Can seem a bit pricey at first, but once you start to run your business with it you immediately see the value.
Kartra is very "step-by-step" which is great when you're just learning it. Slows you down a little when you're familiar, but DOES stop you from making silly errors.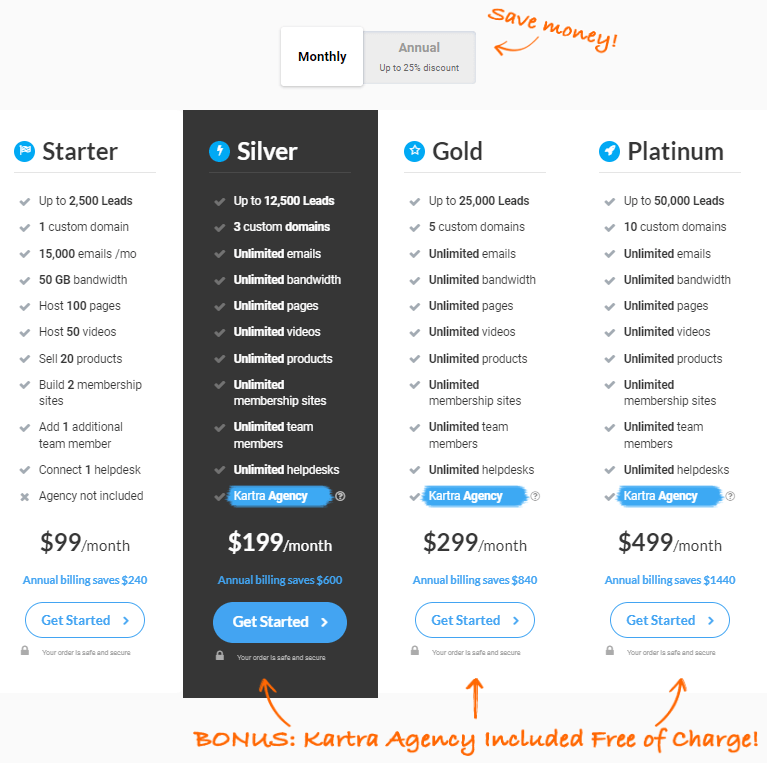 2. Systeme.io
Best on a budget
Run your online business on a budget
Compared to its competitors such as Kajabi (for example) which costs between $199 – $319, Systeme.io has an ENTIRELY free plan with their unlimited plan at ONLY $97 for doing the same thing. Since it's risk-free to try, I'd give it a go if you're on a budget.
This is what Aurelian, the founder of Systeme.io, has to say about his sales funnel product:
"When ClickFunnnels started back in 2014, I immediately tried it out.
It was good, but still needed many complicated integrations which would cost more and suck money out of my business
I thought it must be possible to offer the same (or an even better) tool for cheaper.
I decided it was time that software designed for online entrepreneurs should be made by online entrepreneurs
It took 2 difficult years but then systeme.io (pronounced "system") was born."
Sales funnel

Email marketing 

Website builder

Affiliate program 

Business automation 

Evergreen webinars

Online courses

Blogging 

Sell products 
What I like/dislike about Systeme.io
Like
You can send out unlimited emails COMPLETELY for free 

Easy to navigate for noobs who are just getting started with funnel builders 

The pre-built funnel pages are specially designed to increase conversions and help you sell more products with fewer efforts

Fully automated email marketing 

Program that integrates analytics

Assists in growing your audience  

Automates your tasks 

It's very easy to create landing pages and squeeze pages
Dislike
Your program may not be able to be customized to your exact specifications due to its limited design flexibility

It doesn't offer third-party intergrations 

It doesn't have live customer support
3. Clickfunnels
More of a dedicated funnel builder
You get what you pay for
ClickFunnels offers 3 monthly plans Basic, Pro, and Funnel hacker. With high-quality software comes a high-quality price tag. In comparison to other platforms that do the same, clickfunnels is a bit pricey but when you look at it from a different perspective you'll see why it's so expensive 
The majority of funnel building platforms out there are designed to do one thing: build funnels with pretty landing pages and you have to do the rest yourself.
Clickfunnels, however, was designed to not only help create pretty landing pages but also help you convert and bring in sales, and that comes at a price.
With the annual discount, the Basic plan costs $127/month, saving you up to $240 if billed annually. The features are very extensive and will allow you to fully run a business with unlimited email sequences, pages, and products.
If you're interested in creating a course, Clickfunnels lets you run 3 courses with up to 1000 students. This plan is designed for entrepreneurs managing their business by themselves.
The Pro plan is priced at $197/month and $157/month with a $480 discount if billed annually. This plan is generally for businesses that are a little bigger and require less limited features, also for people who have multiple domains.
This plan has more features such as an Affiliate program, API access, and more.
The final plan, Funnel hacker, costs $297/month, the annual plan being $208/month saving you $3,468 if billed annually, this includes an advanced analytics feature plus you can create an unlimited amount of funnels and up to 200 courses with 20,000 students.
Sales funnels

CRM 

Email marketing

A/B testing 

Landing pages 

Websites blogs

Analytics 

Online courses

membership sites

Clickfunnels editor

Clickfunnels center 

Ecommerce store

Global products 

Workflows

Shopping cart (coming soon at time of writing)
What I like/dislike about ClickFunnels
Like
Clickfunnels makes it easier to scale your business 

Small learning curve

There's a WordPress plugin 

Automation and integration with many popular platforms 

Webpage builder is simple to use 

A/B testing 

Drag and drop

Identifying weak points with easy data tracking

Sales and conversion reporting
Dislike
Slightly overpriced 

When you duplicate a funnel, you have to enter all product details again

Poor affiliate analytics tracking for ClickFunnels affiliates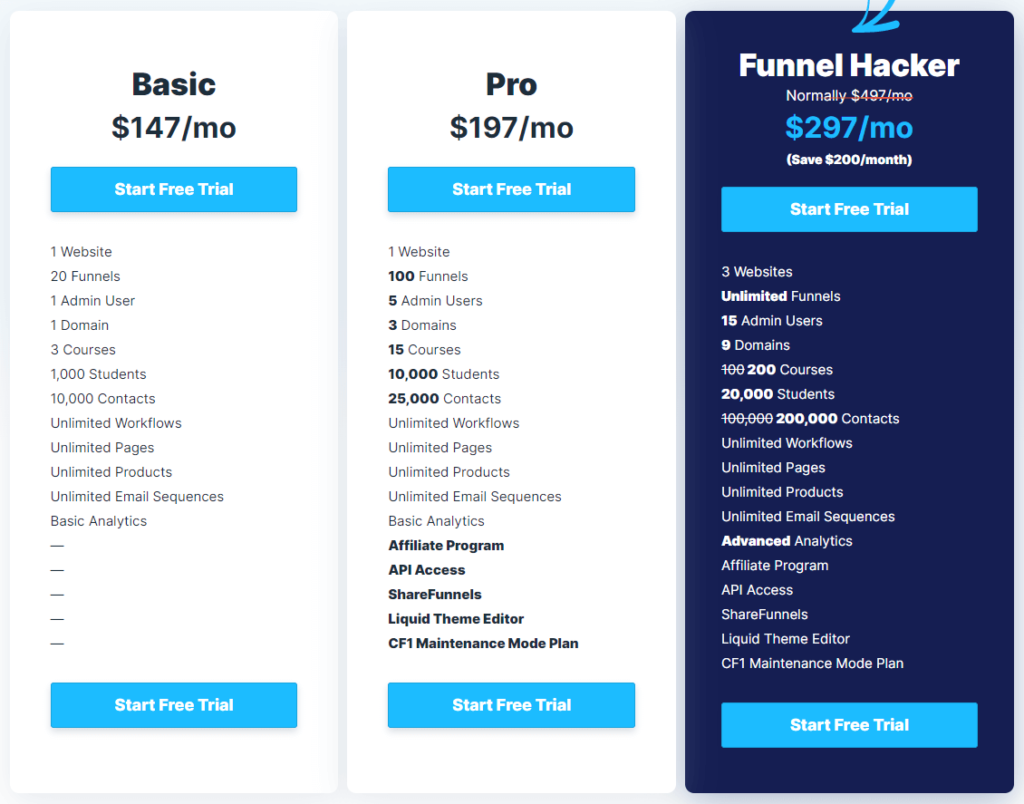 4. Leadpages
Good for small businesses getting started
Reasonable value, platform looks dated
Leadpages is a popular platform and quite affordable. They make it easy to combine lead generation and sales on a single platform, allowing you to collect payments within the software itself. Leadpages lives up to its sales and marketing promises and delivers reasonable value for the price.
The Standard plan costs $99/month but if you decide to pay annually it'll only be $74/month. This plan gives you 1 site with an unlimited amount of traffic and leads. For smaller businesses, this plan would be best.
The Pro plan has a couple of extra features such as online sales and payments and unlimited A/B split testing, you can have 3 sites and receive priority customer support. Medium-sized businesses would benefit most from this plan. 
Last but not least comes the Advanced plan which gives you a master account with 5 client accounts, plus all the pro plan features and advanced integrations. To find out more about this plan you'll have to contact them. 
Generally, the platform looks a little dated compared to its competitors.
Sales funnels

CRM 

Email marketing

A/B testing 

Landing pages 

Pop-ups
Alert bars
Unlimited traffic and leads
40+ standard integrations
Online sales/payment
Unlimited A/B split testing
What I like/dislike about Leadpages
Like
You can design landing pages quickly 

Excellent technical support 

Drag and drop builder

Facebook training group

Lead capture can be automated with the use of automation tools

Affordable 

High conversion filter templates 

Unlimited traffic 
Dislike
You can't integrate a website through a subdomain

Product looks dated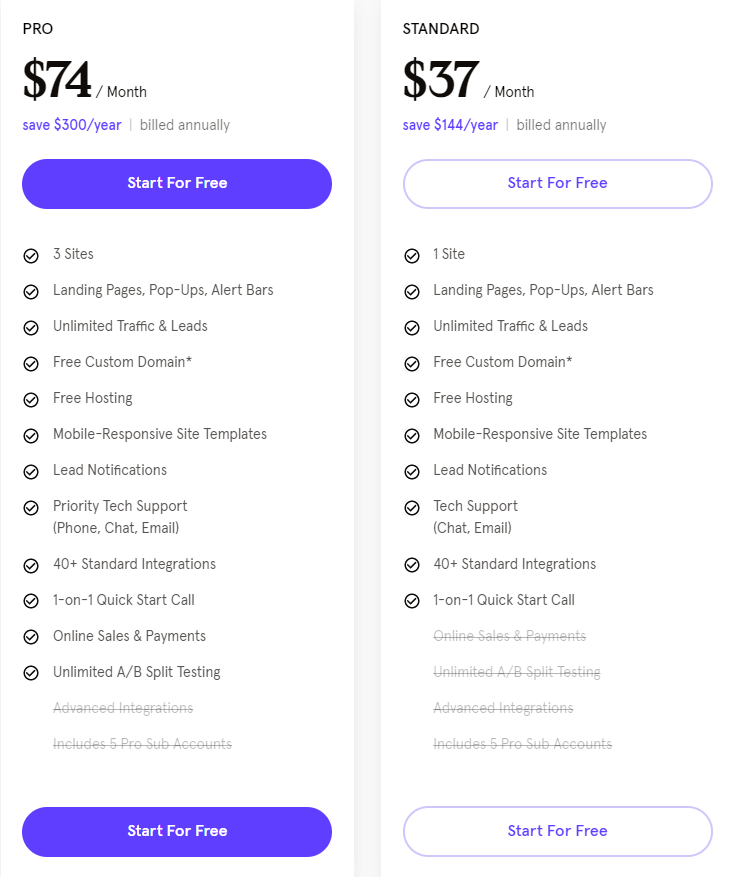 5. Builderall
Built with entrepreneurs in mind
Can be expensive to get started
Builderall has four plans to choose from Cheetah, Marketer, Premium, and Funnel club.
Cheetah and Marketer are quite similar, although Marketer is for a slightly bigger business as it has 3 domains with 5 subdomains while Cheetah only has 1 domain with 3 subdomains. 
Cheetah offers 2,000 subscribers and 2GB disk space, so if you're gonna need more than that then I suggest you go for Marketer instead where you can have an unlimited amount of subscribers and 5GB disk space. 
However, these two plans only get 29 out of 61 tools and features.
The Premium and Funnel club plans are basically the same. You get 15 domains, unlimited subdomains, and subscribers, 10GB of disk space plus all the tools and templates.
The difference between the two is with the Funnel club plan your first payment is $199, and then after that you continue paying $87,90 every month. The reason is that you get a whole bunch of ready-made funnels that just require you to fill in your own details.
Cheetah builder 

Cheetah for WordPress

Cheetah eCommerce

WordPress pro and woocommerce 

Mailboss

Professional email 

Whatsapp automation tool

Whatsapp launch manager 

Sms

builder all marketplace 

Super checkout

CRM

Social proof

Worckie 

Quiz builder 

Helpdesk builderall 

Website chatbox 

Website chat builder

Messenger chatbot 

Private chat 

Virtual assistant 

Webinar builder 

Builderall directories 

Agency system bulderall websites

E-learning tool with visual editor 

Magazine builder 

Launch tool 

Funnel builder 

Browse notifications 

Message funnels for telegram 

Builderall video hosting 

Video funnels 

Mockup studio 

3D photo editor studio

Sharelock

Booking app 

Posting schedule 

Messenger/instagram chatbot

Click map

Delivery
What I like/dislike about Builderall
Like
Over 60 tools and features

With builderall you won't need additional tools to run a successful business

There are tutorials next to the tools to make it easier to use

Excellent pre-made funnels

WordPress integration

Script generator copywriting tool

Affordable alternative to Clickfunnels and Kartra

You can give virtual assistants access to do your work for you 
Dislike
You might not have any use for a lot of the features

They focus on adding tools rather than improving the ones they already have 

Steep learning curve

It's still expensive if you're just starting out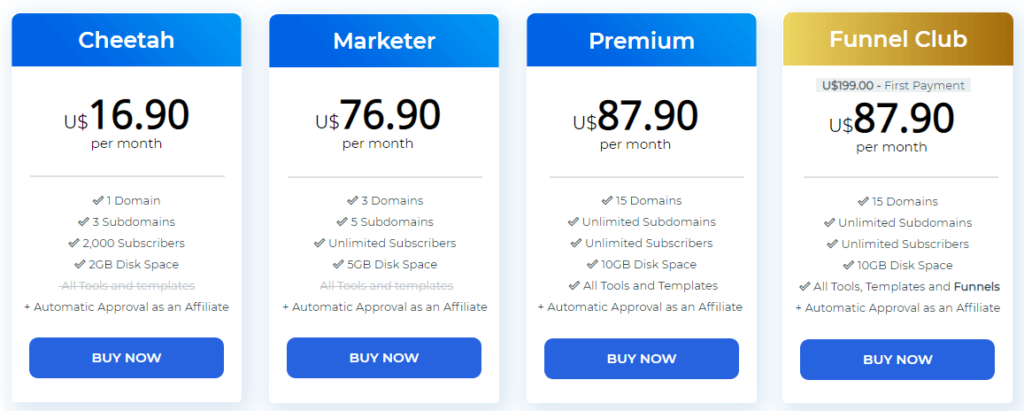 Wrap-up & conclusion
There you go, some of the very best sales funnel software products available in the marketplace, reviewed and rated from my personal experience..
I hope you enjoyed my bonus Return on Investment calculator and that it helped you get a handle on what difference a sales funnel could potentially make to your business. Of course, I don't give financial advice and my calculator is for entertainment purposes only.
Good luck with finding your ideal funnel software.